Related Links
Case Updates
Close Encounters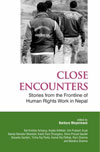 AF Organized Meeting on "Stakeholders Role in Strengthening Juvenile Justice System"
Kathmandu, 24 August 2015: Advocacy Forum (AF) organized a consultation meeting on "Stakeholders' Role in Strengthening Juvenile Justice System," in Kathmandu on 21st August 2015. In the meeting altogether 29 participants from various stakeholders including judges, public prosecutors, defence lawyers, Nepal Police and representatives from Kathmandu District Court, AJAR- Nepal, doctors from Forensic Med. Dept, of IOM (TU Teaching Hospital), Juvenile Justice Coordination Committee, District Attorney, Lalitpur, ILF- Nepal, Child Reform Home etc. were participated.
In the meeting Chief Justice of Kathmandu District Court presented his concept paper on situation of juvenile justice system in Nepal, roles of various stakeholders and loopholes and lacunas in existing laws on juveniles etc. The program was facilitated by Dr. Trilochan Upreti, Executive Director of AF. After the presenter presented his concept paper the floor was opened for participants. The participants shared their experience and raised various issued and concerns as well as problems they are facing while working on juvenile justice sector. After a very fruitful discussion among the stakeholders, they expressed their commitments from their side for full implementation of juvenile justice procedures. Instead of pointing out to each others' weaknesses, they vowed to work together to end the practical barriers and hurdles in administration of juvenile justice despite limited resources. Likewise, they requested to the organizer to raise the issue of policy reform with the policy makers to end the legal barriers they are facing for smooth delivery of juvenile justice in Nepal.
The program was supported by DKA Austria.
« Back to overview