Related Links
Case Updates
Close Encounters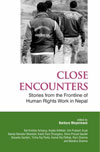 District Attorney Office, Rautahat registered FIR against 6 Police Personnel on Bijaya Mahara Case
Earlier, the SP Siddhi Bikram Shah, who has recently replaced the SP Rabiraj Khadka responded that he can register the FIR only if the allegation is made against the policemen who are directly involved in inflicting torture to Bijay Mahara.
After registering the FIR, District Attorney Subash Kumar Bhattarai forwarded the FIR to the DPO for the registration and initiate the further process.
Advocacy Forum-Nepal has been following up the case and providing legal assistance to the vicitms' family.
« Back to overview