Related Links
Case Updates
Close Encounters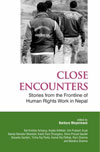 'Arrange for free test and treatment for the COVID-19 virus' orders the Tulsipur High Court, Nepalgunj Bench
Responding to the writ application, the joint bench of Honorable Justices Dr. Ratna Bahadur Baghchand and Honorable Justice Gokarna Dangi on 30 April 2021 issued a 14-point interim order instructing the District Administration Office, Banke including others to arrange for free test and treatment for the COVID-19 virus; to properly manage the care provided to non-covid patients, especially patients with chronic illnesses, pregnant women, elderly, children; to immediately manage the construction of the holding centers with the capacity of accommodating at least thousand people near Jamunaha area; to provide every individual entering Nepal via Indian border with facemasks free of cost, also conduct antigen and Polymerase Chain Reaction (PCR) test on the returnees and their primary contact showing symptoms, and to coordinate with concerned local levels to ensure that the infected are kept at hospitals, isolation centers or holding center whereas those without symptoms to be sent to the destination with arrangement of 10-days-long quarantine facilities.
The Court decided that the Government should arrange for labs, ventilators, oxygen, referrals, airlifting of patients, ambulances necessary for the management of the hospital, as well as, monitor the condition of the people in home isolation and home quarantine, and facilitate for their treatment if necessary, and also arrange for swab-collection at the prison, child correction homes. Moreover, the Court ordered the concerned authority to coordinate effectively for the procurement of essential medical supplies and mobilization of human resources. Besides, the Court urged the Government to lobby for the immediate access of the public to inoculation. Further, the Court viewed that the current crisis may be a grave threat to human civilization across the District if not controlled, and prevented immediately. (Court's Decision)
Prior to the decision, human rights lawyers had submitted a memorandum to the Chief District Officer of Banke, issued press statements demanding effective measures to prevent and control the spread of the virus and ensuring access of the public to the health services. Following the prohibitory order imposed across Banke District since 21 April 2021, the Courts had suspended all non-urgent court proceedings.
« Back to overview