Related Links
Case Updates
Close Encounters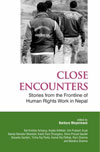 AF and Dalit Mahila Utthan Sangh Organized a Provincial Level Workshop on Legal Aid in Butwal
The major topics of discussion were Legal Aid, Community Reconciliation, and Challenges Faced by Paralegal Officers. The participants stressed that the Government should prioritize providing legal aid to the needy as it is not possible for the human rights organizations solely to provide such facilities.
Expressing her commitment to the issue, Lauti Tharu, a Member of the Lumbini Provincial Assembly highlighted that people belonging to the Dalit community are even scared to approach police offices hindering their access to justice. Similarly, Puspa Tharuni, Lumbini Provincial Member said that she will initiate the discussion in this regard at Provincial Assembly and advocate for bringing a separate law related to legal aid.
The participants expressed their commitments to work together for access to legal aid and justice for Dalits, marginalized community people, and detainees.
AF provided technical support in the program.
« Back to overview