Related Links
Case Updates
Close Encounters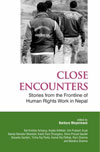 Conflict Victims' Society for Justice (CVSJ-Nepal)
CVSJ-Nepal is the central-level establishment of the survivors of violence and relatives of those killed and disappeared at the hands of both the state and the then Maoist rebels during the decade-long armed conflict in the country. Formally registered on Sep 25 2008, the society aims at uniting conflict victims of all complexions in their simultaneous quest for truth and justice. Currently, the society has its presence in 42 districts backed by 250 Village Development Committee (VDC) level Victims' Pressure Groups.
A brief history
Apparently, the organization was not an overnight phenomenon. Its seeds were sown back in January 2003 AD in Banke district when the victims, fearing reprisals from the security forces and the Maoists, started travelling in groups to register their complaints and document their cases.  
After the declaration of second ceasefire in 2003 between the government and the then Maoist rebels, the survivors of violence and relatives of the disappeared started registering complaints at authorities concerned and seeking assistance from human rights organizations like Advocacy Forum.  On one of such occasions, it so happened in Banke District that some victims, fearing to travel alone to district headquarters, travelled in a group. This very act made them as well as AF lawyers to realize the importance of a concerted action.  Consequently, AF-Bardiya encouraged victims of the districts to work in unison and a sort of informal VDC-level victim groups were formed in the district.
Spurred by the good practice in Bardiya, Advocacy Forum started actively facilitating and providing essential impetus to victims in other districts to form similar groups. This activity eventually climaxed into an informal meeting of twelve victims in a private house in Mahadevpuri Village (Banke District) on 25th September 2006 and formed the first victim pressure group of the country. A milestone it was, the event, in turn, opened the floodgates in other villages across the country. With the course of time, the members of the victim groups felt the need of joining hands with their fellow brethren to make a concerted attempt in their search for truth and justice.
A comprehensive consultation of victim representatives from 15 districts on Dec 12 2007 in Kathmandu decided to form a 13-member coordinating body to make necessary arrangements for the registration of their highest governing body. The consultative meeting also unanimously named their umbrella organization as "Conflict Victims' Society for Justice (CVSJ-Nepal). Shortly afterwards on May 25 2008, an ad-hoc committee was formed under the chairmanship of Janak Bahadur Raut, a torture survivor from Kapilvastu District. Eventually on Aug 25 2008, the organization received its formal accreditation from District Administration Office, Kathmandu.  It was also registered at Social welfare Council on Sep 24.
On 8th and 9th of January 2009, CVSJ-Nepal organized its first Annual General Assembly and formed an 11-member central committee under the leadership of Janak Raut.
Objectives
Exerting sustained pressure on the Nepalese government to address the issues of the victims affected both directly and indirectly by the warring parties (the State and the then Maoist Rebels) by airing the grievances of the conflict victims nationally and internationally
Establishing the rights of the victims as guaranteed by national and international laws and ensuring the equal access of victims to justice
Overseeing the implementation of the Transitional Justice mechanisms
Putting an end to pervasive impunity by bringing the perpetrators involved in (gross) human rights violations
Spreading the message of harmonious co-existence and reconciliation in society
Holding the government and the security apparatuses accountable to prevent recurrence n of violations in future
Banding together and collaborating with civil society and various national and human rights organizations to safeguard the rights of conflict victims
Empowerment of Victims
AF´s role
Since its establishment, AF has been helping conflict victims in several ways. Besides documenting their cases, it has been providing legal, psychosocial and medical assistance and inspiring them to get united for seeking justice.  In collaboration with other relevant organizations, it also regularly organizes a variety of training to CVSJ members on para-legal issues, transitional mechanisms justice and several administrative issues necessary to effectively run an organization.  AF also provide national and international advisory support to CVSJ .Moreover, AF's offices of all echelons actively participate in every single event organized by CVSJ and offer them technical and logistic support.